Monuments and famous buildings are a great way to start sand sculpting. They tend to be easier since their real life equivalents must also be stable!
Moving into modern times, we find a great monument to the bureaucracy of government, rising out of the sand, in the U.S. Capitol Building. I made this around 2000 – 2001, so it was one of my first sand sculptures.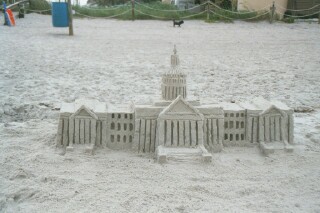 The United States Capitol in Washington, D.C., is among the most architecturally impressive and symbolically important buildings in the world. It has housed the meeting chambers of the Senate and the House of Representatives for almost two centuries. Begun in 1793, the Capitol has been built, burnt in the 1812 war, rebuilt, extended, and restored.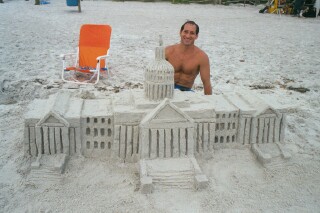 Now, people have asked me "Did you REALLY make that???" which I frankly find to be a bit insulting… it's an implication that they think you couldn't do it or are lying… so here are some photos showing the sculpting in progress! Sheesh!
1. Start with a large mound of wet, packed sand…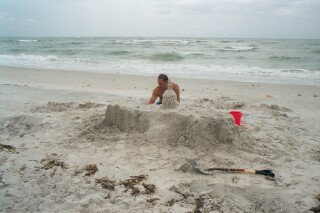 2. Start cutting away with a shovel, coat hanger and plastic knife to get the right rough shape… Hint: start with the fine features at the highest point first – work from the top down always…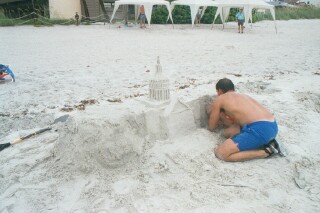 3. Add finishing touches with a coat hanger and plastic knife.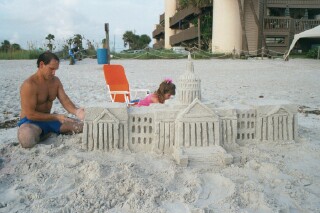 4. The fine detail work near the end takes the most time… and that's when things start to collapse!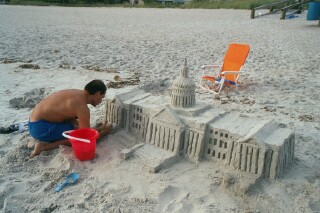 5. Now, just sit back and wait for beautiful women to come by and admire it.  Yeah, right… mostly you get old men and children; but that's ok, at least they're appreciative! Note the wedding reception in the background – they just happened to be having a wedding and reception there just as I was finishing.  They really appreciated it!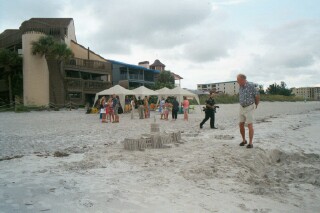 For photos and more information about the real U.S. Capitol Building, see
How the Location for the Capitol Was Chosen A Brief Construction History A Chronology of Construction Milestones Architectural Features & Historic Spaces Works of Art Flags over the East and West Central Fronts http://www.aoc.gov/cc/capitol/capitol_overview.htm